Books about the expedition.
Question:
Hi David
You recently hinted that Sarah Murgatroyd's The Dig Tree was incomplete in a number of ways. Can you recommend a more compelling history of Burke and Wills that improves on Sarah's publication of 2002?
Answer:
Dear Lindsay,
The 1991 book Burke and Wills: From Melbourne to myth by Tim Bonyhady is by far the most comprehensive, detailed, accurate and well-written book on the expedition. It covers the political and social background to the establishment of the expedition, the expedition's progress and the aftermath of the expedition and how it has become part of Australian folklore. It doesn't really dwell much on the actual trudge across the continent, this book is more about the social impacts of the Burke and Wills expedition on Australia.
Bonyhady's book is a little hard to find these days, although there are second-hand copies around. The National Library of Australia's search engine Trove shows there are 105 libraries in Australia that have copies. The Burke and Wills Historical Society would be happy to assist you in finding a copy if there isn't one in a library near you.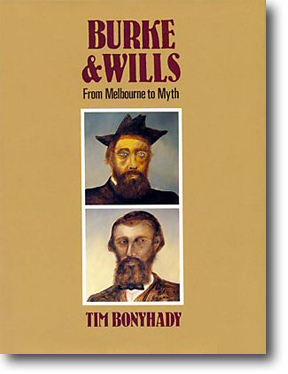 Burke and Wills : from Melbourne to myth Tim Bonyhady.
Balmain, NSW: David Ell Press, 1991.
383 pages, [20] p. of plates; ill. (some col.); maps; ports.; facsims.
ISBN-10: 0908197918
ISBN-13: 978-0908197910
* Trove listing of available copies of Bonyhady's book HERE.

Bonyhady's book is very comprehensive, but it is probably best to have a reasonable understanding of the expedition before you start reading it, and this is where Sarah Murgatroyd's The Dig Tree would make a good starting place. I think Murgatroyd's book is a very readable account of the expedition and I recommend it to anyone who would like to get a basic understanding of the expedition. Unfortunately Murgatroyd did not reference any of her sources and therefore when reading The Dig Tree it can be difficult to distinguish the difference between snippets from archive manuscripts, theories from Dr Tom Bergin's thesis, inaccurate statements which have been reproduced from secondary sources, original ideas that Murgatroyd formed on the basis of her own research, or things that may have been made up to keep the story moving. Although a large part of the book is based on Bergin's excellent thesis, The Dig Tree contains numerous errors, and so one should keep this in mind while reading the book and not take everything in it at face value.
(The views expressed here are of course my own opinion and do not necessarily reflect those of the State Library of Victoria.)

********
Bibliographies and Reading Lists
* For anyone interested in reading more about the expedition, there is a short but comprehensive bibliography on this website, DIG: The Burke and Wills Research Gateway HERE.
* I have a more detailed bibliography on my website The Burke and Wills Archive HERE.
* The Burke and Wills Historical Society can send you their suggested reading list if you contact them HERE.
*******************************************************************************************************