Equipment planted at Camp 119.
Question:
The book The Dig Tree by Sarah Murgatroyd speaks of an event in the journey on 13 February 1861 where 'Wills sacrificed more of his instruments and a considerable number of books. They were buried under a box tree.'

I have not yet found a reference to this in the online diaries/journals.

I am aware of the 'Plant Camp: Camp 46R', where excess equipment including instruments were supposed to have been buried or 'planted' on 3rd April 1861.

Have I just missed the entry or is this a puzzle?
Answer:
Dear Lance,
The reference you refer to is at the start of Chapter 15 of The Dig Tree. Murgatroyd's book is a very readable account of the expedition but as she failed to reference her sources, it is difficult to authenticate some of the material in the book.
We do know that on the 13 February 1861, Burke, Wills, King and Gray left their most northerly camp, Camp 119 on the Bynoe River in the Gulf of Carpentaria to return to Cooper Creek. At the Commission of Enquiry, John King mentioned leaving behind some equipment at the camp:
Q.868. They [Burke and Wills] made a small plant there at their Camp 119, and left a note and left a few articles there.
Q.869. What were the articles they left there ? - A few camel pads and the camp oven, and a few other small articles, and a lot of books - a considerable quantity of books.
Q.870. Books you had used for your amusement ? - Yes.
Q.871. No memorandum books ? - None; left an expedition form.
So they buried a camp-oven, some "small articles" and a lot of reading books at Camp 119, but there is no mention in any of the archives of Wills leaving any instruments behind. An artificial horizon was "found" in the Surveyor's Office in Normanton in the 1940s, and because it had "Burke, 1865" stamped on it, it was assumed (incorrectly) to have been the one issued to Burke. The artificial horizon was sent to the Royal Geographical Society of Australasia (Queensland Branch) in Brisbane, but has since been lost. It is unlikely that the artificial horizon belonged to Wills, as none of the expedition's equipment would have been stamped with Burke's name, or the date 1865 (but the surveying equipment that was sent to Burketown, which was in founded in 1865 and was in the surveying district of Burke, could account for the "Burke, 1865" stamp). There is also an unverified story that the camp oven was found some time ago in the rubbish tip at Magowra, but again this story seems to be speculative.
When Frederick Walker, Leader of the Victorian Relief Expedition, found Camp 119 in January 1862, he mentioned a tree which was marked:
SEE
14
Walker assumed the carvings on the tree indicated where to dig for a message, so the party "tried digging 14 feet from the tree south east by east, but the ground had evidently never been opened and would require a pickaxe to make much way into it." The following day, Walker re-examined the tree and this time "tried digging at 14 inches and 14 yards, but with no success."
When Camp 119 was later re-surveyed in 1909 by J P Thompson of the Royal Geographical Society of Australasia (Queensland Branch), he did not mention finding the SEE 14 tree, and so we have no indication where it was or what sort of a tree it was. The area around Camp 119 is now protected and listed on the Queensland Heritage Register.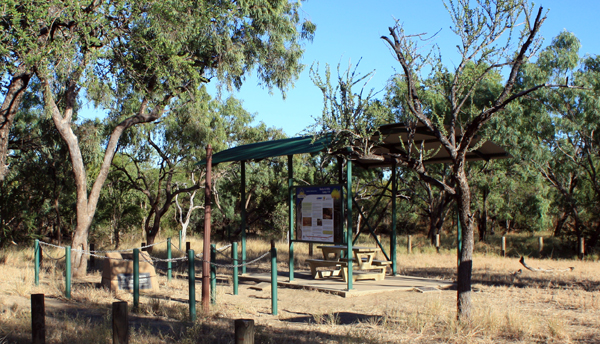 Burke and Wills' Camp 119 at the Gulf of Carpentaria.
Image: © Dave Phoenix 2010.
********
References
* James Park Thomson, Expedition to the Gulf of Carpentaria in Queensland Geographical Journal, Brisbane: the Society, Vol. 25, 1910.
* Frederick Walker, Journal: 1861-1862, MS 9996, Australian Manuscripts Collection, State Library of Victoria, Melbourne. Read online here
* Victoria: Parliament, Report of the Commissioners appointed to enquire into and report upon the circumstances connected with the sufferings and death of Robert O'Hara Burke and William John Wills, the Victorian Explorers, Melbourne: John Ferres Government Printer, Parliamentary Paper Number 97, 1861-2. Read online here
* Queensland Heritage Register listing: Here
*********************************************************************************************************