Government storekeeper, Richard Nash
Question:
Interested if you have found any letters written by Richard Nash, the Government Storekeeper, or his wife Mrs Richard Nash, as they were in contact with Burke, I believe, based on an Argus article (The Argus, Saturday 5 February 1926, p. 7). Read Argus article HERE.
Mrs Nash (nee Sarah Ann Agg) was the sister of my great great grandfather, Thomas Mosley Agg, who wrote for the Australian Journal under the pseudonym T.M.A. Not interested in Burke and Wills so much, as the Agg family connection. One of the collections in the State Library of NSW mentions a ball ticket belonging to Mrs Nash.

Regards,
Answer:
Dear Jeanette.
Richard Nash was the Victorian Government Storekeeper in Melbourne in 1860 and was responsible for supplying the government stores for the Burke and Wills Expedition. He became good friends with Burke, and Burke gave Nash power of attorney over his affairs while away on the expedition. Nash later became Secretary for Railways and subsequently left Australia for the Otago goldfields in New Zealand.
The letters mentioned in the 1926 Argus article were purchased by the Mitchell Library in Sydney in 1941. The collection contains a number of letters from Burke to Nash including letters referring to a dishonoured cheque and Burke's debts in Melbourne. There is also Nash's diary of his time in New Zealand. As far as I am aware, the only reference to Mrs Nash is Item 13A "Admittance card for Mrs Nash to St Kilda Ball, 3 October 1961."
The collection is at: State Library of New South Wales, Mitchell Library, ML D179, Burke and Wills Expedition 1860-1, (Items are on microfilm CY 885, frames 1-434). See the full record HERE.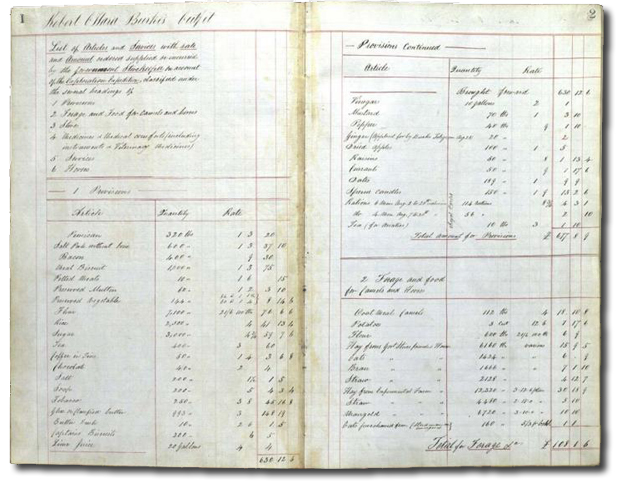 Account ledger book, (Robert O'Hara Burke's outfit...showing some of the stores supplied by the Government of Victoria through the Government Storekeeper, Richard Nash).
Royal Society of Victoria, Exploration Committee Account Book 1858-1873, Box 2088B, Folder 2, MS 13071, State Library of Victoria.
First camp from Duroadoo by Ludwig Becker
(Becker's image shows some of the equipment the expedition carried at the Rat Point Camp, northern New South Wales).
18 February 1861, Image ms000063, MS13360, State Library of Victoria.
*********************************************************************************************************