Duncan McIntyre's "Ladies' Leichhardt Expedition" 1865-7
Question:
I'm hoping that there maybe a list of personnel who were members of the Burke and Wills Search Party. I have been researching my family history and have often come across stories about my Great Grandfather's brother, Mr Colin Stewart, being involved with the Burke & Wills Expedition. I have recently found evidence in a newspaper that he was a member of the Search Party and not the Expedition. We know that he would have been a very experienced bushman as he arrived in Victoria as a 2 year-old in 1841 and was raised in and around Buninyong, Victoria. Is there a list of individuals that were on the Search Party and if so how can I access the list? We would like to find proof of his involvement.
Answer:
Dear Marilyn,
There were a number of Search Parties that were sent out in 1861-2 to look for Burke and Wills, but Colin Stewart was not a member of any of these expeditions. He was, however, a member of Duncan McIntyre's 1865 Leichhardt Search Expedition.
********
In 1863, Duncan McIntyre travelled from Glengower, near Clunes in Victoria to the Gulf of Carpentaria. He had been impressed with William Landsborough's description of the country around the Flinders River and wanted to lay claim to pastoral land there. (Landsborough's party had travelled along the Flinders River in 1861-2 during their search for Burke and Wills). On the homeward journey, McIntyre found "two old horses, and saw very old tracks of a party going south west. Also two trees marked L about 15 years old," which he believed were from Ludwig Leichhardt's 1848 expedition which vanished without trace.

In December 1864, McIntyre wrote to the Royal Society of Victoria (who were the organisers of the Burke and Wills Expedition in 1860) with news of his discoveries and they decided to organise an expedition to follow up McIntyre's discoveries and search for Leichhardt. The Victorian government contributed £500, South Australia £500 and Queensland £1,000. A committee of Melbourne society ladies, headed by Eliza Sophia Bromby, raised funds by public subscription, as did a Queensland ladies committee headed by Lady Bowen, wife of the Governor of Queensland. In all, the ladies raised an additional £1,500.

The "Ladies Leichhardt Search Expedition" consisted of twelve men, forty-two horses and fourteen camels. The camels were selected from the original herd that had survived the Burke and Wills Expedition and had been grazing peacefully at Longerenong Station in the Wimmera. Duncan McIntyre was selected as leader, but as he was still in Queensland buying stock, the expedition was assembled by Dr Ferdinand Mueller.

The expedition comprised:
Duncan McIntyre, Leader
Dr James Patrick Murray, Second-in-Command
William Frederick Barnett
Alexander John Barnes, William McDonald and Thomas Kelly in charge of camels.
Alexander Gray, Colin Stewart, John McCalman and [Stephen] Harney in charge of horses.
Baluch Khan and Esau Khan, camel sepoys.

They left Bullock Creek Station near Glengower in Victoria on 3 July 1865 and headed to Menindee on the Darling River to meet McIntyre. Nicholas Chevalier sketched the departure, and a lithograph of this sketch was published in the newspapers.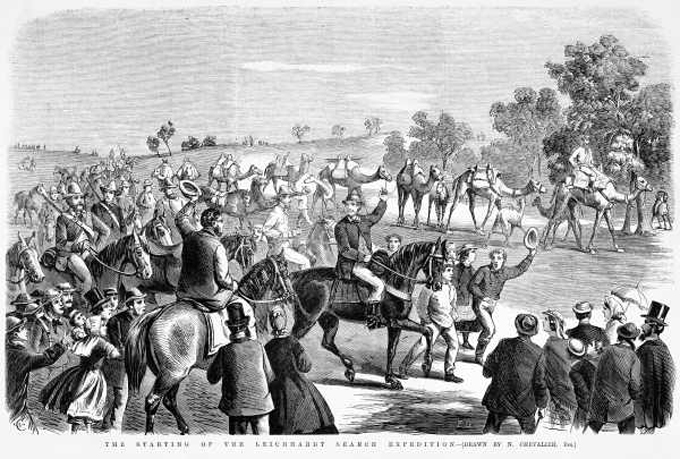 The Starting of the Leichhardt Search Expedition
Frederick Grosse, 1865, Image mp000900, State Library of Victoria.
Published in The Australian News for Home Readers, Tuesday 25 July 1865: 8-10.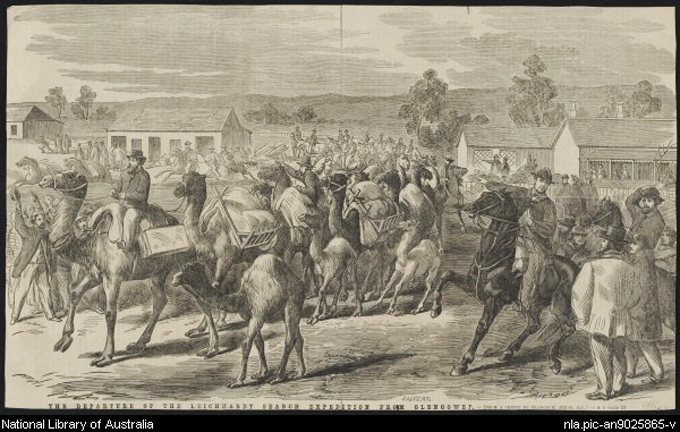 The departure of the Leichhardt search expedition from Glengower
From a sketch by Francis H. Nixon, Samuel Calvert, 1865, Image nla.pic-an9025865, National Library of Australia.
There was also a photograph taken of the men, a copy of which was donated anonymously to the State Library of Victoria in 1959. It shows Colin Stewart with the other members of the party.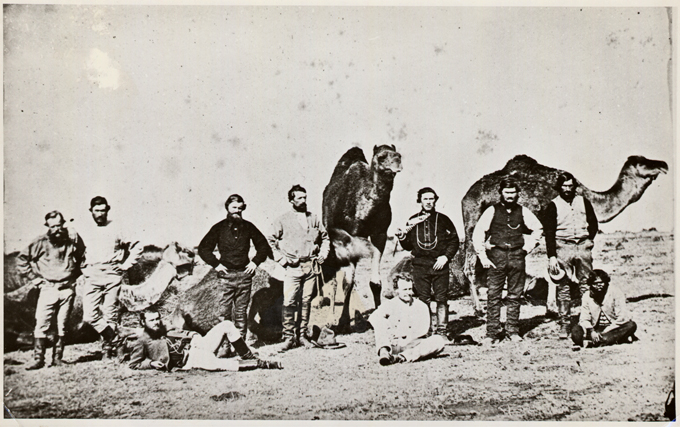 Leichhardt expedition under Duncan McIntyre.
Image H24455, State Library of Victoria
The photograph was published in the Sydney Morning Herald in 1927 with the following caption:
Leichhardt Search Expedition
Members of the "Ladies' Search Expedition," which left Victoria in 1865 to search for traces of Leichhardt.
Standing (left to right): Harvey, John McCalman, Colin Stewart, William McDonald, Kelly, Alexander Gray, John Barnes.
Sitting (left to right): William Frederick Barnett, Dr. Richard Patrick Murray, and Bendigo, a Queensland native.
The camels were named: Carcoar, Taronga, and Budgee.
(Sydney Morning Herald, Saturday 5 November 1927: 13).
The expedition travelled from Glengower via Newbridge, Serpentine, the coaching stop at Durham Ox, Kerang (to cross the Loddon) and arrived at Swan Hill on 9 July. They spent five days at Swan Hill to allow the animals to rest and feed, before crossing the Murray and heading to Kyalite (to cross the Wakool), Balranald (to cross the Murrumbidgee) and then Pooncarrie on the Darling River. This route was very similar to the route that Burke and Wills had taken five years earlier. They arrived in Menindee on 9 August 1865 and camped near Burke and Wills' depot camp at Pamamaroo. Second-in-command, Dr Murray spoke highly of the men.
I cannot speak too highly in their praise, every one working as if the common interest of the expedition were theirs; and the greatest harmony and good feeling amongst them.
(Empire, Monday 11 September 1865: 5).
However when Duncan McIntyre arrived at Menindee, he was not happy with the composition of the party. He wrote,
The camels and stores left here [Menindie] yesterday (23 August) for Mount Murchison – 90 miles without water. I am going up the river to get horses and to sell the rubbish they sent up. Had they been the best horses in Victoria they would not be fit to go northward after getting here in such a season as this.
(Letter from McIntyre to Donald Campbell, dated 24 August 1865).
When they arrived at Mount Murchison, in addition to changing the horses, McIntyre also reduced the size of the party. He dismissed three of the men who were working as supernumaries: Stephen Harney, Thomas Kelly and Colin Stewart. This ended Stewart's association with the expedition, although Dr Murray noted he was sad to see the men go.
It was with regret that the limited number of hands required obliged me to part with three of them ... [they] were discharged only because they were supernumaries, and through no fault or transgression of their own.
(The Age, Monday 19 October 1865).
The party that went on from Mount Murchison was:
Duncan Mcintyre
Dr James Patrick Murray
John McCalman
William McDonald
Alexander Gray
Alexander John Barnes
Baluch Khan
Myola and Welbo, Aboriginal guides
Sixty-five horses, twelve camels and five tons of stores.

It may have been fortunate that Colin Stewart left when he did, as the expedition degenerated into a shambles at Cooper Creek when drought hit the party and Dr Murray was accused of drunken negligence. Many of the men were dismissed and it took McIntyre many months to resupply the party and restart the expedition.

When the expedition reached the Gulf in April 1866, McIntyre contracted Gulf Fever and died at the Gilliat River on 21 May 1866. His replacement, W F Sloman, died shortly afterwards, and a third leader, William Frederick Barnett was appointed. However, by May 1867, no traces of Leichhardt had been found and the expedition ended.
*********************************************************************************************************