Following Burke and Wills across Australia
Question:
Hi Dave, Im planing on doing the Burke & Wills track next Feb.
I'm thinking of hiring a 4x4 in Melbourne, can you please tell me which is the best map to use how much water to carry and how long on average does it tak.
Last year I went from Perth to perth via the Nullarbor Port Augusta Cooper Pedy Uluru Alice Springs Katherine Darwin Halls Creek etc etc back to Perth, I was on a motorcycle.
I have a good idea of what to expect but would appreciate any advise you could give me, I will be traveling with my wife hence the 4x4, I will be traveling from the UK, thank you in anticipation.
Answer:
Dear Noel,
There has been a lot of interest in people wanting to follow the expedition's track from Melbourne to the Gulf of Carpentaria. As a result I have just published a book through CSIRO Publishing which details the hitory of the expedition and then uses maps and photographs to take you across Australia in 16 chapters. the route follows publicly accessible roads and tracks and each chapter roughly equates to one day's travel.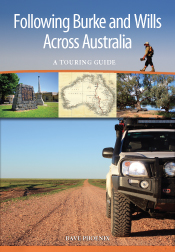 http://www.publish.csiro.au/pid/7273.htm
With regards to the amount of water and preparations etc., I will include an extract from my book below. However one point that I would stress is that travel in the outback in February is not advisable due to the extreme heat and monsoonal rains in the tropics. Certain roads in the South Australian outback are subject to seasonal closures between December and March as a result of the extreme temperatures.
In my book I explain:
Much of the route described in this Guide is on back roads rather than highways ... Many of these outback tracks traverse very remote country.
This Touring Guide will take you to some isolated and remote areas with limited facilities and no mobile phone coverage. You and your vehicle need to be properly prepared for such conditions. This is a journey that should only be made in a well-maintained 4WD vehicle with high clearance. If you have limited experience driving in the outback, handling and recovering a 4WD, you are advised to seek advice on how to equip your vehicle and prepare for your journey.
Much of the route is on unsealed roads, the condition of which varies depending on recent weather conditions, the amount of traffic the roads have been subjected to and how well maintained they are. Outback roads can be very rough and stony in the dry, slippery and boggy in the wet. Even in Victoria, the route includes a number of unsealed roads that are designated Dry Weather Only and which become impassable after rain.
In New South Wales, South Australia and Queensland, most roads on the route are unsealed. If the weather is wet, roads may quickly become impassable and be closed by local councils, police or state road authorities. Fines may be issued for driving on closed roads. Even sealed roads can be closed at floodways or low-level bridges. You therefore need to be self-sufficient in case you have to camp in or by your vehicle while you wait for roads to reopen. You should take this possibility into account if you have time constraints.
Generally speaking, each chapter contains a segment of the route that can be driven in a day, so allow at least a fortnight for the trip from Melbourne to the Gulf.
Although the VEE began their journey in winter and reached the Gulf at the height of the summer wet season, this timeframe is not recommended. In summer, outback temperatures can be extreme and Public Access Routes (PARs) in South Australia have summer seasonal closures for public safety. Some roads in north Queensland are closed for months during the monsoonal wet season.
The most favourable time of year to travel would be to start from Melbourne in late autumn, cross the inland in winter and reach the Gulf in the dry season.
You should always check road reports and weather conditions for each stage of your journey before setting out. A list of useful contact details is provided at followingburkeandwills.com.
Hope this helps. Any questions about the Burke and Wills touring guide, feel free to email me: author @ followingburkeandwills.com